The most I'd ever considered elevators before a year ago was the occasional stray thought wondering what inputs go into their routing algorithms. Since I heard a quote along the lines of 'elevators compress a city while cars stretch it out', I've considered their impact on our lives and cities a lot more. This focus is mostly due to a hypothesis I have that urban sprawl is terrible and that density (with the help of elevators) can contribute to reducing sprawl.
I enjoyed this article about progress in elevator systems and took some notes below.
Innovations in elevators
Weight of the rope
One of the largest limiting factors for incredibly tall elevators was the weight of the elevator rope. KONE, an elevator manufacturer, made a large breakthrough with the 'UltraRope', a rope with a carbon-fibre core that is 10% (!) of the weight of a traditional steel rope (e.g. 250kgs instead of 27,000kgs for a 500m, 2000kg elevator).
TWIN system.
A twin system has two elevator cabs with independent cables in a single shaft. The elevators can't cross due to the fact they share the same shaft but the extra cab can add significant passenger capacity in certain building use cases.
Reducing the number of elevator shafts is important as elevators get taller because each shaft eats the same absolute area into every floor, while floors gets smaller the higher up a building you go.
Double deck elevators
A double deck elevator is two cabs tall. If the bottom cab was at the ground floor of a building, the top cab would be at the first floor.
These aren't that popular due to passengers' dislike of transferring to the correct cab, and the number of 'wasted' stops where nobody gets into or leaves their cab.
Destination dispatching systems
Destination dispatching systems (DDS) are characterised by the machines in the lift lobby, where you punch in the floor you want to go, and it directs you to a particular elevator.
Every time I catch a lift with DDS I wonder much more efficient they are at delivering people than traditional elevators.
Efficiency facts & considerations of DDS:
"manufacturers claim that the average traveling time can be reduced by about 30 percent"
"…the average wait time for the elevator in a typical 16-floor building with a dispatch system is 13 s, while the average wait time for the elevator in the same building with a conventional system is 138 s "
'Energy vs. user time savings are a big tradeoff once DDS is in play." — I find this surprising as I would have thought the time saving and associated extra minutes of work from saving users time would far outweigh the energy costs of running elevators in a way that minimises user total time.
The decision to have 'destination panels' on all floors or just the busiest depends on the type of traffic. In some buildings it's common for the majority of 'down' traffic' to only ever travel to the ground floor.
Some panels provide the ability to enter how many passengers are travelling with the person entering the destination floor.
Other consumer benefits
DDS reduce user stress because there is no need for a crowd to rush the lift to make sure they get a spot. Even when everyone is heading to the same destination DDS can reduce user stress when information about which level a cab is travelling to is not broadcast publicly as people will wait to enter the lift they were told to enter.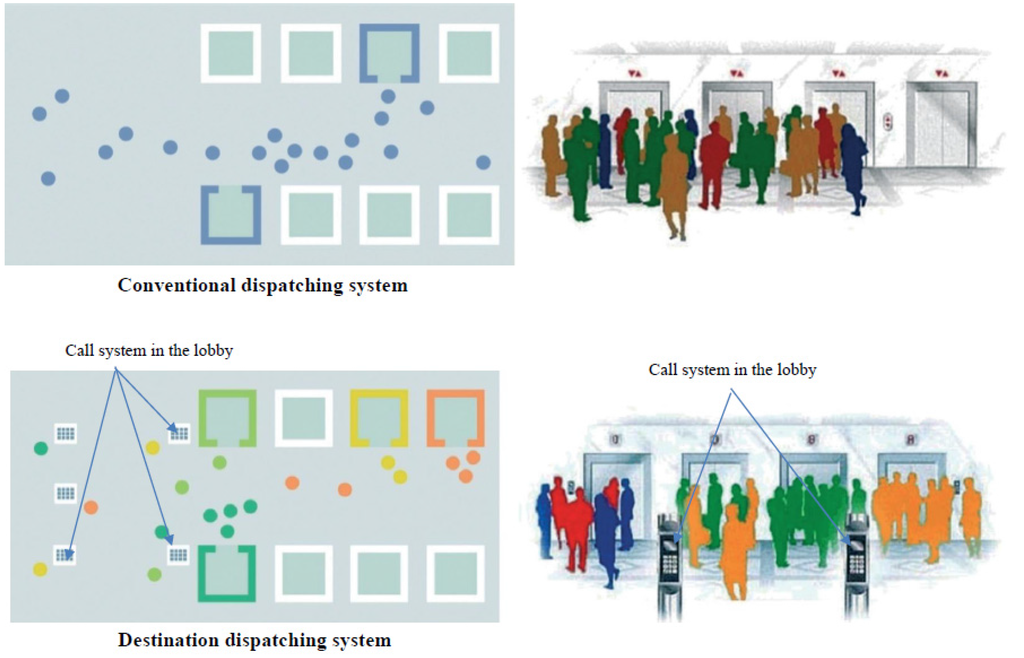 Popping ears
Elevators descend faster than aeroplanes. The article implies that passenger comfort with regards to changing air press is the main limiting factor of elevator speed.
Other points
There are 7 billion elevator journeys per day, and just in China 700,000 were elevators added per year in China (in the mid-2010s).
In very tall buildings, almost 70% of the elevator's weight is attributed to the cable itself,
Global leaders in elevator manufacturing:

KONE, Helsinki, Finland;
Otis, Farmington, CT, USA;
Mitsubishi, Tokyo, Japan;
Hitachi, Tokyo, Japan; and
ThyssenKrupp, Essen, German

The paper says "Buildings consume about 40% of the world's energy, and elevators account for 2%–10% of a building's energy consumption". There is no reference, but I guess the 2-10% is only for buildings with elevators otherwise 0.8% (40%*2%) of the world's energy consumption coming from elevators seems ridiculously high.
One World Trade Centre lifts have fixtures to make them more aerodynamic.